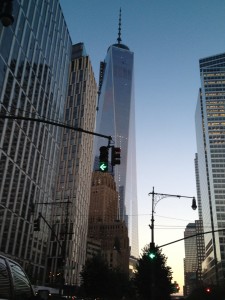 Yes it is. End of post. With the way I often complain about living in this high cost of living city, I was tempted to write that three word post. I have to admit, I am a bit of a complainypants about the costs of living in NYC. But is living in NYC really that expensive?
Well of course it is expensive. That is undeniable. NYC is often listed among the most expensive places to live in, both in the United States and worldwide. However, the biggest reason why NYC is so expensive is its housing costs.
The average rental price of apartments in Manhattan and Brooklyn are crazy. According to the Daily News, the average rent in Manhattan is $3,902 and in Brooklyn $2,411. Home prices are equally obscene. In Manhattan, the average is $1,303,421 and in Brooklyn, it's $959,907. The media loves to throw out those numbers to make a point, but I think most can find a suitable place for much less than the average rent and home price cited above. It is pretty much impossible to avoid the high cost of housing, unless you can somehow live rent free because a long lost relative left you a paid for apartment or some other crazy scenario like that. I've listed some ways you can try to reduce the costs of housing in a previous post that you may want to check out.
Now, let's move on to reasons why living in NYC isn't as expensive as you may think.
Transportation
In many cities and towns, having a car is pretty much a must. For a family or couple, a two-car household is also a necessity. Having to buy a car or two cars and paying for maintenance, gas, and insurance costs a lot of money. In New York City, often times, a car is not necessary. For $2.50 a ride or $112 for unlimited rides for a month, you can pretty much get to any part of the city. The transit system in NYC is pretty amazing and it is open 24 hours a day. Depending on where you live in New York City, most neighborhoods are very walkable. There is often no need to spend money for a car, or even if you have a car, there is no need to waste money on gas. Where I live now, I can walk a few blocks to a supermarket, a drugstore, a movie theater, restaurants and plenty of other places where a person would want to go. While I do have a car because I commute out to the suburbs for work, I know many living here who don't have one and have no need for one.
Entertainment
There are so many things to do in New York City. Sure, there are plenty of expensive things to do, but there are also many cheap and affordable things to do. My favorite attractions include the museums, Governor's Island (with free ferry service and free events), the Highline and free movies and ice skating at Bryant Park (not at the same time of course!). Actually visiting and walking around the various diverse and eclectic neighborhoods is entertaining enough for me.
I could compile an exhaustive list of the free and affordable things that you can do in New York City, but Erin who blogs at BrokeMillenial has already posted an extensive list here.
Stefanie who blogs at The Broke and Beautiful Life also has a list of posts about cool and free things to do in NYC. Just click on the NYC tab on her blog.
–Groupon type deals
I've read some people mention that there are not many Groupon type deals in the areas where they live, but there are plenty in the NYC metro area. While Groupon does not always provide good deals, they do sometimes offer great deals for activities that you may be interested in. Groupon and other deal sites often have deeply discounted deals for museums, tours, sporting events, among other events.
Restaurants
I think there is a common misconception that New York City is expensive when dining out. Sure, there are plenty of outrageously expensive restaurants here, that doesn't mean you can't have a great affordable meal when dining out. You don't have to go to the fancy Zagat or Michelin rated restaurants to have a good meal. My wife bought recently bought lunch for $4.75 (including a bottle of water) near where she works. No this was not in Manhattan, but even there, cheap eats are available. Also, with restaurants, Groupon deals and Restaurant.com deals are available to get a discounted meal at various places.
Cost of Goods and Services
Once again, similar to everything else in New York City, I think the cost of things here can be very expensive or it can pretty affordable. You just have to know where to look. It depends on what you're buying and where you go to buy it. For many people, most things they purchase is purchased online so it doesn't matter where you live. For things like fresh produce and groceries where it is much more difficult to purchase online, I still do not think the price in NYC is necessarily higher. Of course, if you do your grocery shopping in Manhattan, the options for lower costs may be harder to find. Read my post about saving on groceries here.
Competition
I think one advantage of living in NYC is that there is a lot of competition for your money. If you don't like the service or price at one store, there's probably another store that offers the same service or product very close by. It is not like in a small rural area where a store has a monopoly. You can use this to your advantage by negotiating the price or by shopping around.
Thrift shop/Freecycle/Craigslist
Another advantage of living in such a big city is that there are a lot of people getting rid of their stuff. There are many thrift shops and many people who donate some gently used items. And in a well-to-do neighborhood (think upper east side), you can score some pretty nice things. There are also many people selling things on Craigslist at a deep discount or people using freecycle to give away things they no longer need. Because of the amount of people here, you can often find what you're looking for.
Nick who blogs at Pretired.org had an interesting post about great cities and listed factors including safety, affordability, walkability, Transit, bicycle friendliness, cleanliness, weather, infrastructure, open space, culture and aesthetic beauty. Based on these factors, I think New York City scores very high in all of these factors, except maybe the affordability factor. However, if you live frugally, you can enjoy the city's amenities and cultural offerings. I don't feel deprived living here (well not most of the time!), but my wants and needs are modest.
Does the media portray NYC living as outrageously expensive? Would you ever want to live here? If you are a fellow New Yorker, what other ways is NYC not as expensive as it seems?